Lincoln Center News
Summer for the City Returns, The Ultimate New York Festival
June 14 – August 12, 2023
Invites New Yorkers to Hundreds of Free Events
with Thousands of Artists in Celebration of NYC 
First Ever Full-Campus Transformation by Visual Director 
Clint Ramos Creates Multiple Outdoor Spaces of Welcome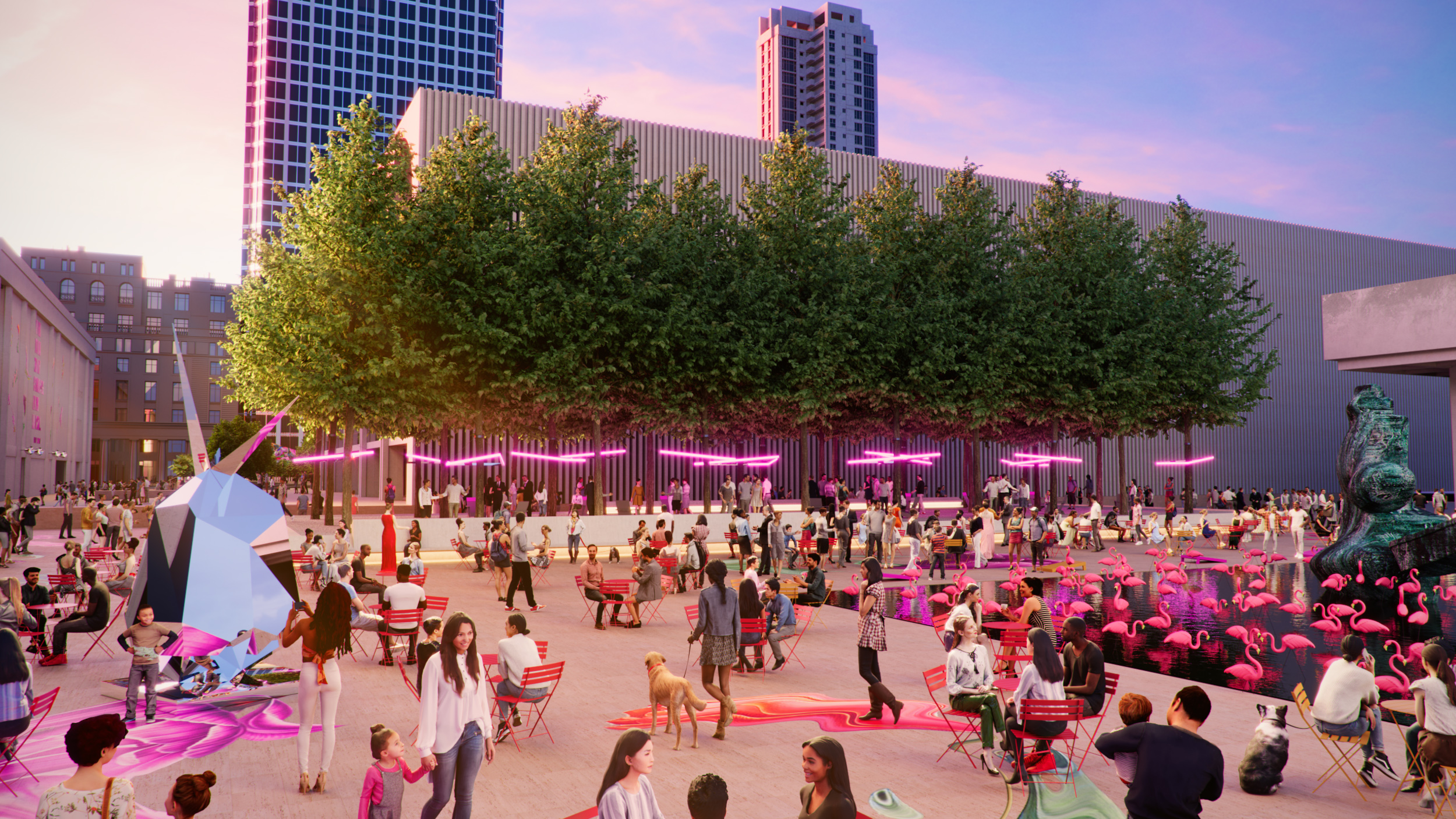 Download English PDF
En español
En français
In Chinese
In Korean
NEW YORK, NY (April 17, 2023) – Lincoln Center for the Performing Arts (LCPA) today announced the second annual Summer for the City, the ultimate New York festival. 
Over three months, Lincoln Center turns its campus into a summer festival featuring hundreds of free events, thousands of artists, and food from across the city, inviting New Yorkers of all kinds to come together and celebrate the city's vibrant communities through the arts. 
"We are blessed to be in the heart of the most diverse city in the world, and to have sixteen acres of outdoor space to celebrate the magic of this bustling global city," said Shanta Thake, Ehrenkranz Chief Artistic Officer of LCPA. "This summer builds on a city reimagining itself—finding hope in community, and planting seeds for the future. Over three months, we welcome all New Yorkers to come dance, love, and celebrate together with long-standing traditions of social dance and classical music, and new traditions like our wedding for hundreds of couples, and a 'second line' processional to honor lives lost." 
Thake continued: "Together with visionary artist Clint Ramos, we are opening all of our spaces wide with playful designs, and, of course, the return of the 10-foot disco ball. Whether it's having a lunch break at any of our outdoor dining options, taking selfies with the installation of 200 flamingos, or staying late for a silent disco, we invite New Yorkers to come together, see themselves, and find their home away from home."
In collaboration with partners across Lincoln Center's campus and the city, Summer for the City honors New York's multifaceted communities with dynamic new works and reimagined classics—including a week-long celebration of Korean cultural traditions during Korean Arts Week, the New York City premiere of Octavia E. Butler's Parable of the Sower, the return of the BAAND Together Dance Festival, globalFEST, and Mostly Mozart Festival Orchestra concerts, and culminating in a week-long celebration of the 50th anniversary of Hip-Hop with performances by J. PERIOD, Rakim, Big Daddy Kane, a trap choir, and more. The summer also shines a light on accessibility and disability artistry, with Big Umbrella Day, the return of Deaf Broadway, and a series of events curated by disability artistry guest curator Kevin Gotkin.  
This season builds on the successes of last year's inaugural Summer for the City, which brought all of Lincoln Center's summer festivals under one collective banner, welcoming New Yorkers back together after so much time apart. The inaugural Summer for the City season served an audience of over 300,000 on campus—more than three quarters of whom had never before reserved a ticket to a Lincoln Center for the Performing Arts presentation.
It is also inspired by 2021's Restart Stages, which created an outdoor performing arts center, allowing in-person performing arts to continue during the pandemic. The summer also sees the return of the Middle School Arts Audition Boot Camp, a free, two-week program—run in partnership with the New York City Department of Education—for Title 1 public school students applying to arts-based high schools.
"This year's Summer for the City offers something exciting for everyone, defies easy categorization, and is filled to the brim with delightful surprises—like New York City itself," said Andreas Dracopoulos, Co-President of Stavros Niarchos Foundation (SNF), which is providing lead support for the festival's community programming. "We are proud to help support Lincoln Center in welcoming people to this inclusive space for creative expression, joy and belonging, and multifaceted civic engagement." 
In recent years, Lincoln Center has expanded its role as an artistic and civic cornerstone, hosting dozens of blood drives, food distributions, graduations, and serving as a polling place, core to its broader commitment to the city and a statement of confidence in its enduring vitality. 
"Nothing captures the spirit of New York better than our arts, and this summer, thanks to Lincoln Center, thousands of New Yorkers will have access to hundreds of free cultural events," said New York City Mayor Eric Adams. "Summer for the City will include performances by critically acclaimed music artists and curators and be a celebration of our city's creativity, diversity, and, most importantly, our resilience. New York City isn't coming back—New York City is back. And we can't wait to see everyone enjoying the arts the city has to offer."
"As the preeminent creative sector in the world, we know first-hand how the arts improve our communities, contribute to our health and vitality, and welcome thousands upon thousands of visitors each year," said Mara Manus, Executive Director of the New York State Council on the Arts. "With last year's groundbreaking debut of Summer for the City that welcomed over 300,000 attendees, we eagerly anticipate another breathtaking season of hundreds of free events that will enrich the civic experience and cultural exuberance of this city. I look forward to all that will take flight this summer."
Lincoln Center comes into full bloom this summer with a campus-wide transformation, all connected through a singular design by Summer for the City's Visual Director Clint Ramos—the first time one designer's vision will take over all of Lincoln Center's major outdoor spaces.
Infused with greenery and colorful botanical inspirations, the campus becomes a departure from the busy cityscape with multiple opportunities for visitors to come together, day or night. Spaces include The Garden, a greenhouse-like retreat for gathering and contemplation; Hearst Plaza with outdoor games, a new performance space, and al fresco dining and drink options from Lincoln Ristorante, Tatiana by Kwame Onwuachi, and nearby food trucks; and the return of The Underground at Jaffe Drive, a speakeasy-inspired venue newly expanded for greater capacity; The Reading Room, outdoors facing Amsterdam Avenue; and The Dance Floor at Josie Robertson Plaza, the centerpiece of the festival and the city's largest outdoor dance floor with a, now iconic, mega disco ball for social dance nights, silent discos, and more. Indoor venues will also be activated for events and as spaces to rest and refresh from the summer heat—including the David Rubenstein Atrium, the Clark Studio Theater, and multiple spaces inside the newly reimagined David Geffen Hall.
The 2023 edition of Summer for the City has been programmed by a team of curators in partnership with colleagues across Lincoln Center and the city to center artists and art forms historically underrepresented on campus and welcome wider audiences and communities. Events throughout the summer are inclusively designed, integrating access needs with a range of accommodations for all performances—from ASL interpretation, audio description, live captioning, haptic suits, and more—no request necessary. Select performances will be livestreamed across Lincoln Center's social channels.
Programming highlights include:
The New York City premiere of Octavia E. Butler's Parable of the Sower, an opera by Toshi Reagon and Bernice Johnson Reagon based on Butler's prescient novel of the same name. The fully staged congregational opera recreates the sci-fi, Afrofuturist masterpiece, celebrating the novel's 30th anniversary in collaboration with Brooklyn Public Library, Queens Public Library, and New York Public Library.
 
The Mostly Mozart Festival Orchestra performs a series of engaging and dynamic concerts in celebration of Renée and Robert Belfer Music Director Louis Langrée's twenty-first and final year with the Orchestra. 
 
Several events celebrate Pride Month throughout June including National Queer Theater's Criminal Queerness Festival; queer pop duo The Illustrious Blacks' silent disco; Mariachi Arcoiris de Los Angeles, the world's first LGBTQIA+ mariachi group; and a joyous tribute to Sylvester, one of the first openly gay artists in disco and R&B.
 
Cultivating Access Ecologies, curated by disability artistry guest curator Kevin Gotkin. The hybrid in-person and virtual series includes performances by Deaf and disabled artists including DJ Nico DiMarco, Jerron Herman, Crip Rave, JJJJJerome Ellis, Una Osato, and Pato Hebert.
 
Korean Arts Week, a full-campus takeover with a K-Indie Music Night, DJs, a film festival, silent discos, K-pop, wellness events, family programs and more, along with a feature program with the Mostly Mozart Festival Orchestra. 
 
Freedom is a Constant Struggle, an evening of orchestral performances and readings that highlight the African American struggle to reap the benefits of liberty and justice as part of American citizenry, conceived and curated by singer-songwriter and composer Tamar-kali, and performed with the American Composers Orchestra.
 
An outdoor film festival in Damrosch Park, complete with popcorn and drinks, and transmitted via Quiet Event headphones, in collaboration with Film at Lincoln Center. The series includes a crowd-pleasing three-film showcase in connection with See Me As I Am, the campus-wide celebration of pioneering musician Terence Blanchard, featuring some of the illustrious composer's most celebrated cinematic collaborations.
 
A pair of social sculpture interventions curated by Lincoln Center Artist-in-Residence Mimi Lien, including a dressforms exhibit inspired by the residents of San Juan Hill by costume designer Sabrina Guillaume-Bradshaw and a series of movement activations featuring artistic displays of queerness and self-love by nicHi douglas.
 
Big Umbrella Day, a one-day iteration of Lincoln Center's Big Umbrella Festival, creating relaxed spaces which specifically welcome neurodivergent audiences through multi-sensory experiences, performances, installations, and workshops. 
 
The debut of Sydnie L. Mosley Dances' PURPLE: A Ritual in Nine Spells, an evening-length choreopoem inspired by Ntozake Shange, created in community with senior residents of NYCHA's neighboring Amsterdam Houses and in association with Gibney Presents. A pre-show multimedia art installation will be on view in the lobby, What Does PURPLE Sound Like?, spotlighting older adults from our local communities. 
 
A dance workshop on The Dance Floor with the School of American Ballet and an open-air percussion performance with students from The Juilliard School. 
 
Presentation of The Bessie Awards, NYC's annual celebration of the best in dance and performance.
 
A campus-wide celebration honoring Hip-Hop's 50th Anniversary rounds out the summer, spotlighting the music, fashion, dance, poetry, and global cultural influence of Hip-Hop, including a Live Mixtape with Brooklyn DJ J.PERIOD performed live with Rakim and Big Daddy Kane; the Sainted trap choir; Jazz Está Morto with Arthur Verocai hosted by Adrian Younge and Brooklyn's own Ali Shaheed Muhammad; as well as family programs, outdoor dance parties, silent discos, and more.
This summer also sees the return of:
Social dance on The Dance Floor at Josie Robertson Plaza, kicking off on June 14th with Grammy and Latin Grammy Award winner Lucrecia performing Cuban music with salsa group 8 Y Más, and continuing throughout the summer with powerhouse artists including the Stax Academy with special appearance by soul icon Booker T Jones; José Alberto "El Canario"; returning favorites like Joe McGinty & The Loser's Lounge and Orquesta Broadway; a night of line dancing hosted by Stud Country, and performances and classes across a variety of dance styles including swing, Hip-Hop, merengue, salsa, line dancing, Lindy hop, and more.
 
Silent discos, following social dance nights on The Dance Floor multiple nights per week with a diverse range of dance styles from K-pop, salsa, Hip-Hop, Broadway, and more.
 
The Underground at Jaffe Drive, a speakeasy-inspired space now expanded in size, hosting stand-up comedy nights, jazz nights with Jazz at Lincoln Center, and spoken word and poetry nights curated by Lincoln Center Poet-in-Residence Mahogany L. Browne.
 
BAAND Together Dance Festival with five of NYC's most iconic dance companies—Ballet Hispánico, Alvin Ailey American Dance Theater, American Ballet Theatre, New York City Ballet, and Dance Theatre of Harlem—performing together on one stage for five nights. Made possible by CHANEL.
 
A site-specific, evening-long performance commemorating Juneteenth, conceived and curated by Carl Hancock Rux, and featuring performances by Aaron Diehl, Alicia Hall Moran, Burnt Sugar The Arkestra Chamber with special guests Vernon Reid and DJ Logic, and Ronald K. Brown's EVIDENCE Dance Theater.
 
Choreographer Kyle Abraham, building off of last year's two-night dance festival Reunions, curates two more evenings of new site-specific works pairing choreographers with composers.  
 
The Las Culturistas Culture Awards, a pop culture celebration hosted by Bowen Yang and Matt Rogers, with special comedian presenters and surprise guests.
 
Jazz at Lincoln Center's "second line" processional to Lincoln Center—the New Orleans tradition to mourn and celebrate lives lost—as well as a series of jazz concerts in The Underground at Jaffe Drive.
 
Deaf Broadway, bringing an exciting new rendition of Stephen Sondheim's Company, performed entirely by Deaf actors in American Sign Language.
 
Featured musical performances in the Bandshell at Damrosch Park including Trinidadian calypsonian David Rudder; Venezuelan singer-songwriter Danny Ocean; a tribute to Haitian singer, songwriter, and producer Michael "Mikaben" Benjamin curated by Chriss Rimpel; Aimee Mann in conversation with Ann Powers, and more
 
The Reading Room with The New York Public Library for the Performing Arts, as well as family Storytimes series.
 
Wedding: New York's Biggest Day, inspired by the first ever (Re)Wedding in 2022, inviting hundreds of couples to our 16-acre campus and offering New Yorkers the chance to celebrate love. Conceived by Tony, Grammy, and Olivier Award-winning Director Scott Wittman, the celebration brings hundreds of couples together for a multicultural ceremony with music, poetry, social dance and more, for a wedding that could only happen at Lincoln Center.
 
The Art of Wellbeing, participatory movement and mindfulness sessions harnessing the power of the arts to engage the mind, body, and spirit, presented in collaboration with NewYork-Presbyterian Hospital.
 
Expanded offerings for families with workshops, Storytimes, silent discos, and performances from artists including Élage Diouf and HEGAZY.
 
Collaborations with new and existing partners including the Mahindra Blues Festival, France Rocks, Brasil Summerfest, Here Lies Love, Harlem Arts Alliance, PEN America, Korean Cultural Center New York, GRAMMY Museum, La Casita, globalFEST, Bushwick Starr, NYC Laughs, the New York City Department of Education, and community blood drives with the New York Blood Center.
Click here for full calendar of events.
More on the Mostly Mozart Festival Orchestra series:
The Mostly Mozart Festival Orchestra performs a series of dynamic concerts in celebration of Renée and Robert Belfer Music Director Louis Langrée's twenty-first and final year with the Orchestra, and the phenomenal accomplishments they have achieved together. The 2023 series honors Langrée's incredible tenure with several tributes and specially curated performances, celebrating his leadership with the Orchestra over the decades.
Kicking off with a free outdoor concert in Damrosch Park as part of Summer for the City's Korean Arts Week, the opening program includes an orchestral arrangement of the Korean folk song Arirang, Soo Yeon Lyuh's Dudurim with the composer also performing on haegeum, and Mozart's Concerto No. 2 for Flute featuring celebrated Korean flutist and Orchestra member Jasmine Choi. 
The Mostly Mozart Festival Orchestra performs several more concerts at the Wu Tsai Theater in David Geffen Hall with Choose-What-You-Pay tickets, building on its highly successful Choose-What-You-Pay performances last summer. All performances will be simulcast to the 50-foot Hauser Digital Wall free of charge, in the Karen and Richard LeFrak Lobby of David Geffen Hall.
Guest conductors include Jonathon Heyward, Gemma New, and Thomas Wilkins, with featured artists including Amir ElSaffar, Xavier Foley, Stewart Goodyear, Simone Lamsma, and Randall Goosby in the Avery Fisher Legacy Concert. Highlights include works by contemporary composers such as Valerie Coleman, Sarah Gibson, Adolphus Hailstork, Soo Yeon Lyuh, and Jessie Montgomery, as well as pieces by Tchaikovsky, Schumann, Kodály, and Mozart's monumental Mass in C minor.
The series culminates with a fitting finale to Langrée's final year—a personal tribute as he conducts Mozart's last three symphonies—a distillation of the composer's astonishing genius that encapsulates the full range of human emotion. The Orchestra will continue to be a special part of Lincoln Center summers for many years to come and, after this year, will be adopting a new name as part of a broader reimagining and new artistic vision.
More on Clint Ramos' full-campus design:
Inspired by the inaugural Summer for the City, which saw the return of social dance and brought it front and center to the heart of campus on Josie Robertson Plaza, this year, an expanded design vision from Visual Director Clint Ramos transforms the entire campus into a welcoming oasis. The Dance Floor at Josie Robertson Plaza returns with its now iconic disco ball hovering over the fountain and new colorful botanicals surrounding the dance floor, under the dynamic lighting designs of Andrew Grant. The design continues to blossom underground, with the return of The Underground at Jaffe Drive, a speakeasy-inspired venue now expanded in size hosting comedy, spoken word, poetry, jazz, cabaret performances, and featuring a full bar.
New spaces include The Garden, a greenhouse-like retreat by Damrosch Park for quiet and contemplation, with greenery and plants designed in collaboration with Donyale Werle Design, as well as places of welcome throughout Hearst Plaza, featuring colorful designs and neon lights with outdoor games, al fresco dining options, and a performance space that encircles a display of 200 flamingos situated in the Paul Milstein Reflecting Pool. A display on the western façade of the David H Koch Theater features the phrase "Y fui toda en mí como fue en mí la vida" (And I was all in me as was life in me" from Julia de Burgos' poem Yo Misma Fui Mi Ruta (I Was My Own Path). Vinyl botanicals adorning walkways and building façades serve as the connective tissue throughout.  
"They say that when there's an apocalypse, nature takes over. It's aesthetically disruptive, and it's beautiful," said Visual Director, Clint Ramos. "That is the inspiration behind this design—after such a time of upheaval, we are finding our way back and making way for new growth, bursting with possibility. Through greenery, mirrors, colored lights, and abstracted botanicals we evoke the idea of nature reflecting on itself, transforming the entire campus into a vibrant oasis."
Accommodations for Summer for the City include accessible seating; accessible entrances; all gender and gendered restrooms with accessible stalls; higher weight capacity armed chairs; FM Assistive Listening Devices; hearing loop installed in performances spaces in David Geffen Hall; alternatives to standing in line for entry; tactile maps; noise-reducing headphones, earplugs, and fidgets to borrow; relaxed performances; and Chill Out Spaces, offering reduced noise and visual stimulation, for guests to take a break and reenter when they're ready. Visual directions, describing arrival instructions for neurodiverse communities, will be available online. Lincoln Center also offers an Access Concierge Service, with representatives trained to support guests with disabilities, and providing one on one support for individual guests and their party. To request this service, contact [email protected] or 212- 875-5456 at least one week before attending an event.  Guests are welcome to request additional accommodations for specific events.
The majority of Summer for the City performances are free, with select indoor performances available for Choose-What-You-Pay prices. Most free performances offer a free Fast Track line to gain priority access to the event ahead of the general admission line, and these free Fast Track registrations are available every Monday at noon for that week's performances. Check event webpages on SummerForTheCity.org for performance-specific information on Fast Track availability or ticket on-sale dates.
Click here for full calendar of events and here for imagery.
More at SummerForTheCity.org
**In person press opportunities for Summer for the City must be arranged in advance with the Lincoln Center Press Office, [email protected]**
***
About Lincoln Center for the Performing Arts
Lincoln Center for the Performing Arts (LCPA) is a cultural and civic cornerstone of New York City. The primary advocate for the entire Lincoln Center campus, our strategic priorities include: fostering collaboration and deepening impact across the Lincoln Center resident organizations; championing inclusion and increasing the accessibility and reach of Lincoln Center's work; and nurturing innovation on stage and off to help ensure the arts are at the center of civic life for all. LCPA presents hundreds of programs each year, offered primarily for free and choose-what-you-pay, including many specially designed for young audiences, families, and those with disabilities.
***
Lead Support for Summer for the City Community Programming is provided by the Stavros Niarchos Foundation (SNF) 
Major support is provided by Laura and Scott Malkin, the Mellon Foundation, and the LuEsther T. Mertz Charitable Trust 
Additional support is provided by CHANEL, MOVADO Group Foundation, Howard Gilman Foundation, the Scully Peretsman Foundation, the Ford Foundation, the Shubert Foundation, Barbara H. Block, and Lincoln Center's 22/23 Donors and Members 
Lincoln Center's artistic excellence is made possible by the dedication and generosity of our board members 
Endowment support is provided by the Blavatnik Family Foundation Fund for Dance, The Marie-Josée and Henry R. Kravis Foundation, Oak Foundation, PepsiCo Foundation, and Rockefeller Brothers Fund 
Operation of Lincoln Center's public plazas is supported in part with public funds provided by the City of New York 
Programs are made possible, in part, with public funds provided by the New York City Department of Cultural Affairs, Empire State Development, and the New York State Council on the Arts with the support of the Office of the Governor, Mayor of the City of New York, the New York State Legislature and the New York City Council 
NewYork-Presbyterian is the Official Hospital of Lincoln Center 
United Airlines is the Preferred Artist Airline of Lincoln Center Presents 
Steinway is Lincoln Center's Preferred Piano Partner 
Park Lane Hotel is the preferred artist accommodations of Summer for the City
***
FOLLOW LINCOLN CENTER ON SOCIAL MEDIA:
Facebook: facebook.com/LincolnCenterNYC
Twitter: @LincolnCenter
Instagram: @LincolnCenter
TikTok: @LincolnCenter

 #SummerForTheCity
 #LincolnCenter
###
For more information, please contact: 
Isabel Sinistore
[email protected]
212-671-4195
Desiree Naranjo-Ochoa
[email protected]
212-875-5078
Jenni Klauder
[email protected]
212-875-5490